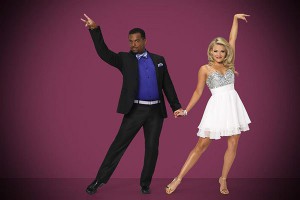 Season 19 of Dancing With The Stars begins tonight! Diehard fans will be watching, of course, no matter who is on the show. But what I want to know is how many of you bet on who will win? I mean it's one thing to have your favorite celebrity on the show and root for them, but completely another to place money on them… Sometimes the heart wants what it wants; but the wallet always wants the win! So do you bet? Or are you too conflicted?
The other thing I want to know is when you'll bet. Do you read the cast list and place your bet as early as you can? Or do you wait to see how your favorite fares… Maybe even wait to see them leave before you gamble on the remaining cast? Or do you just wait until the semi-finals or other late week and choose from who is left to win the dancing competition television show?
These are the current standings:
Alfonso Ribeiro 3/1

Janel Parrish 5/1

Antonio Sabato Jr. 6/1

Jonathan Bennett 7/1

Lolo Jones 7/1

Sadie Robertson 9/1

Bethany Mota 10/1

Tavis Smiley 12/1

Randy Couture 15/1

Lea Thompson 20/1

Betsey Johnson 33/1

Michael Waltrip 33/1

Tommy Chong 50/1
Personally, I think they are greatly underestimating Lea Thompson, Betsey Johnson, and Tommy Chong. Yeah, I know we they are older; but Alfonso Ribeiro's no spring chicken…
Plus, Thompson's danced on stage, Johnson's done cartwheels across them, and Chong, well, he always has a trick up his sleeve! I guess my heart's on my sleeve because these are my top three to watch going into the new season of the television show.