Bond films can be kind of corny… But that's part of the fun. Especially when the locations include truly glamorous locations like casinos. And some romance. (We are girls, after all.)
In fact, 007 films are about as "chick flick" as it gets, in my opinion. Men are men; women are women; there's some witty banter; she pursues him until he catches her… Or vice versa.
Here are some of my favorite quips from the 2006 version of Casino Royale
(I haven't yet seen the original), which capture the wit and the romance I enjoy:
Vesper: I can't resist waking you. Every time I do you look at me as if you hadn't seen me in years. Makes me feel reborn.
Bond: If you had just been born wouldn't you be naked?

Bond: I think I'll call it a Vesper.
Vesper: Because of the bitter aftertaste?
Bond: No, because once you've tasted it, that's all you want to drink.
Swoonable, yes?
I think Casino Royale is one film that offers the Big Three glamours for girls: romance, casinos, and fashion.
As Bond Girl Vesper Lynd, Eva Green is lovely… I don't suppose I can find this exact dress — but I do have several little black dresses, of course, which would fit the bill. And with a pair of Emitations' Casino Royale inspired earrings
I'd certainly feel more the part.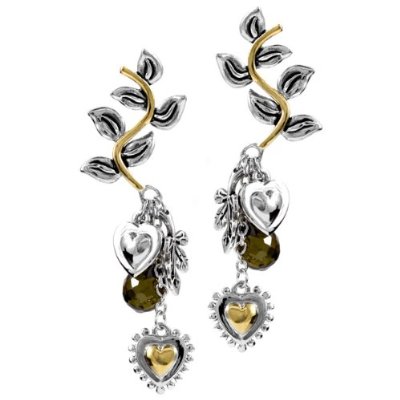 (I'm saving some of my winnings to get a pair — keep your fingers crossed for me!)
If you're really into Vespa's look, here's a tutorial on how to get her dramatic grey and purple smokey eye from Hollywood Noir Makeup: